"I love this deck! Walking on it, looking at it, and thinking about the years to come with NO pool worries!"

"It was a good job. The job was done completely before promised which is excellent!"

"We found them to be fair, honest and responsible people."
From the moment the pool is drained, DECKOVER starts to pay you back.
Most people don't realize what their swimming pools really cost. Remember that the cost of the pool is relative to the size. The average payback time for a Deckover pool cover is LESS than 4 Years. Sometimes much less.
DECKOVER protects our environment:
The SMART Pool Retirement Alternative
Patented Designs and Construction Methods
Professionally Engineered for Safety and Years of Service
Stops Using our Precious Water
Cuts Electricity Usage
Stops Using Harsh Chemicals
Composite Deck is made from RECYCLED MATERIALS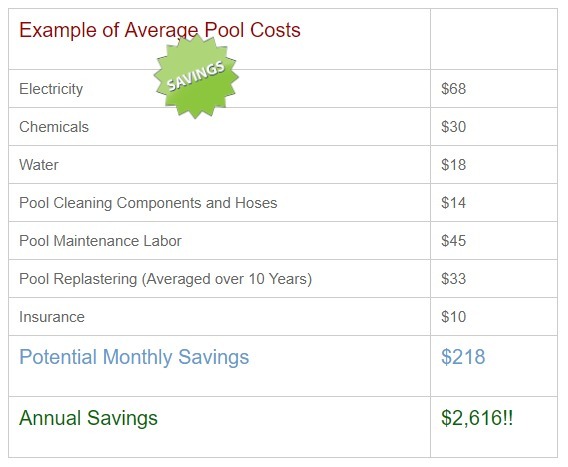 *This payback is based on averages and may vary for your particular situation.
Types of pools we currently service
Most pools in the Phoenix area are built as a concrete/plaster type of pool. Other types may not work with our current design. There may be other types that we can work on. Contact us for special designs.
YES:
Concrete/Plaster
Concrete
Concrete/Plaster/Fiberglass lined
NO:
Fiberglass body
Vinyl Liner
Why Deckover?
---
COST SAVINGS – From the moment the pool is drained, your pool retirement starts to pay you back.
MAINTENANCE COSTS KEEP RISING – The cost of water, chemicals, insurance, and maintenance go on and on
YARD SPACE – Does your pool take up a large section of your backyard? Put DECKOVER up and take the pool fence down! IMAGINE THE NEW SPACE!
VALUE – Retain the value of a pool in your home's resale price.
BEAUTY – It becomes a new backyard focal point. Ready to entertain at your next party! Changes an eyesore liability into a beautiful asset.
SAFETY – Protect your loved ones or beloved pets
NO MORE DANGEROUS CHEMICALS
GAIN STORAGE SPACE – Store items below deck
NO MORE HEADACHES.
CONCERNED ABOUT LOSING THE VALUE IN YOUR HOUSE?
TIRED OF THE CONSTANT HEADACHE?
DO YOU NEED TO SPEND MONEY TO KEEP YOUR POOL WORKING?
*Remember: if you fill in a pool and hide it under the dirt, you must disclose that fact upon selling the home. The excavation costs for a new pool in the location where the old one was, could be astronomical.
Filling in a pool creates an expensive liability to the home. If you replaster, the beast continues to eat. The costs and maintenance goes on and on.